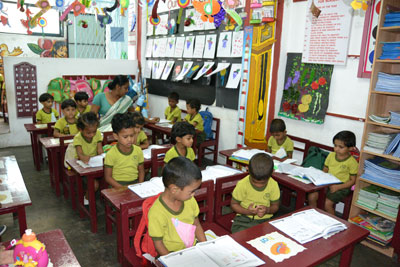 First five years of a life will determine successes or failure in the future life to a great degree. According to neuroscience and child psychology, early experiences impact upon brain, social, emotional, physical and spiritual development more than genetics. Hence, exposing young children in to a rich and loving, caring learning enrichment will lay down the foundation as life long learners.
Giggles International Montessori is committed to working with parents to provide the perfect early learning environment for children, both in the school and at home. Our qualified, caring and loving staff always do things for the benefit of the children in their care.
The GIM pre – primary is unique in many ways, because it focuses on many aspects of young children's development while creating an intrinsic love for learning. We are so passionate about children's physical, intellectual, emotional, social and spiritual development from young age.
In choosing its methods, our nurturing program defines the outcomes for each stage of child's development, the key objectives of early childhood being preservation of self – esteem, love for learning, development of curiosity, creativity and intellectual enhancement through the senses.
We believe that lazy and active minds are nurtured through early childhood education, which is so critical and vital in preparation for primary education. Focus is therefore given to (a) independent learning through trail and error (b) engaging in many form of arts and crafts, movement and dramatic expressions to promote creativity and concentration (c) interaction with the nature to promote love and care towards environment including flora and fauna .(d) artistic expression through music, particularly to promote joy and healthy mind. We have a talented group of music, dancing and art teachers,Who are trained within the system.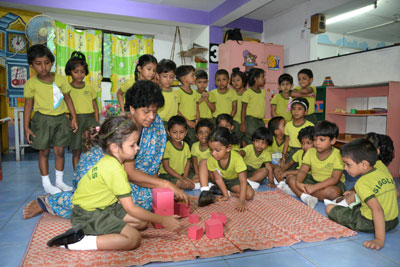 The pedagogy and academic philosophy is inspired by a combination of Dr. Maria Montessori's Montessori method and Dr. Howard Gardner's Theory of Multiple Intelligences along with students centered personalized learning methods.
In order to provide rich and caring educational environment for your precious gems, we are committed to offer the following facilities at Giggles International Montessori.
Loving, caring and warm environment, where the children are free, happy and settled in a multi ethnic and a multi religious environment.


Promoting local and healthy food among children in order to maintain a healthy life, while opposing fast food.


Nun regimented and nun too restrictive atmosphere to facilitate freedom for expression .


Giggles International Montessori team is made up of qualified, experienced, loving academic and non academic staff.


High standard of hygienic and cleanliness in and out side the learning environment.


Teachers are committed to provide feedback on children's progress (monthly assessment on key competencies)


Giggles International Montessori plan and implement innovative and creative programs to enhance your child's development through research.


A rich activity rooms with quality apparatus including quality books, toys, artwork and computers.


Giggles International Montessori is a safe and secure environment with full time security right around the school.


Parents are well come and free to inquire about their child's progress and development from teachers.


We strongly deny and reject (physical as verbal abuse) punishments physically or verbally, hence our teacher are given clear instructions to practice punishment free teaching session, at all times.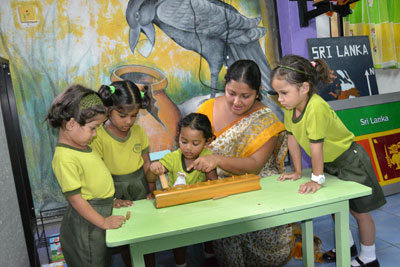 Outcomes Based Education
According to curriculum outcomes, an emphasis upon predetermining the learning undertaken by students and representing there by students as to expected outcomes at the end of a certain period.
During the early childhood development and education (Playgroup, Nursery, Kindergarten) the following outcomes are to be achieved by the children.
Development of motor skills


Able to follow instructions


Should be able to articulate simple sentences


Children should be able to learn general manners and recite and signing poems and rhymes.


Children should be able to identify themselves their belongings and their friends.


Ability to read and recognize words.


To develop power of reasoning.


Should be able to speak Basic English.


Socio emotional development.


Should be able to recognize face value of 1 – 15 with concrete objects.


Have a sound understanding of immediate environment (flora / fauna)


Should have confident to work on their own through discovery learning (on the basis of trail and error)