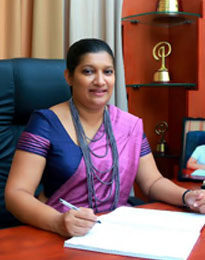 Welcome to the web portal of Asian Grammar School (AGS) and Giggles International Montessori (GIM) , Matara. Giggles Educational services Pvt Ltd, the management company decided to extend its wings and opened a branch which resulted in the birth of AGS and GIM Matara in August 2007. The school started with only 10 students but, gained popularity and now has 270 students on the roll . The teaching and learning process of the Matara branch is directly guided by the Main school in which the pedagogy and academic philosophy is inspired by Dr. Maria Montessori and Dr. Howard Gardner's theory of Multiple intelligence and student centered personalized learning methods. The teachers at the Matara branch make constant visits to the main branch in Colombo to ensure that they are up to date and trained according to the current trends of education along with the teachers of AGS/GIM Colombo.

At GIM through playgroup, Nursery and Kindergarten the young kids are exposed to a stimulating environment that builds a strong foundation from gross motor skills, language skills and emotional development. These skills are established at a young age coupled with an understanding of basic English so when the students peruse primary education they are fully capable and able to adjust and perform in the new educational environment.

Giggles International Montessori extended her services by providing an exclusive English medium school, committed to nurture proactive and informed lifelong learners in Matara, with the opening of Asian Grammar School from grade 1 in 2011 giving the opportunity to primary and secondary education.

Guided by the pedagogies and methodologies of the main school in Colombo, each student is directed to discover his / her potential through personal intelligence (Multiple Intelligence) with an equal academic programme that aims to develop real or practical knowledge based on critical thinking skills and character that promote intelligent behavior.

We aspire and constantly review and develop our programmes, practices and facilities making sure they are up to date with the world educational trends not forgetting to blend in our national heritage and cultural values. The school celebrates diversity as all religions namely Buddhism, Islam, Christianity, Hinduism and other faith are treated equally with the utmost respect.

The school aspires to mold global citizens who are equipped to be creative and critical thinkers, well versed in English with a truly Sri Lankan heart. I wish all the students at AGS and GIM a happy and a successful journey in education and extracurricular activities to become worthy global citizens.